ISO 9001:2015 Certificate
by TUV Rheinland

Korea KS B1503 Certificate

CE PED 2014/68/EU Certificate
AD2000 W0 W9 Certificate


by TUV Rheinland

UKCA PER Certificate of Conformity
by Lloyd's
1. ISO 9001:2015 Certificate
· Notified Body:
TUV Rheinland;
· Certification Scope:
Manufacture of Steel Pipe Flanges;
· Certificate No.
01 100 2233140;
· Certificate Verifying Page:
www.tuv.com
2. Korean KS Certificate & KS Marks
3. CE PED 2014/68/EU and AD2000 Certificate (MM+AD2000W0)
4. UKCA PER (Pressure Equipment (Safety) Regulation 2016, UK Statutory Instrument 2016) CERTIFICATE OF CONFORMITY
5. Certificates for Cargo
· Certificat of Origin - Form A, Form B, Form E, Form F, China-Australia, China-Chile, China-Peru, China-Pakistan, China-Korea, FTA, CO and more;

· Invoice and other Commercial Docs Certified by Chamber of Commerce or Embassy;
· Certificate of Inspection (Internal or third party of SGS, Lloyd's, BV, DNV etc);
· Mill Certificate;
· EN 10204 3.1 Certificate / DIN 50049 3.1 Certificate;
· Certificate COC, SASO, SONCAP, PVOC, CIQ and more.
6. Other Certificates
· ASME, API, GOST, BV, DNV Certificates coming soon.
· Please email to:support@hyupshin.cn for more certification required.
Chemical Compositon Analysis
Mechanical Properties Testing
Spectrum Testing
Ultrasonic (UT) Testing
Coating (Painting, Galvanizing) Thickness Testing
Surface Roughness Testing
Hardness Testing
Dimensions Checking
QUALITY ASSURANCE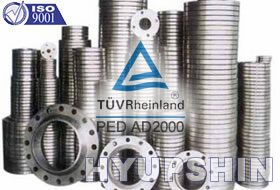 Search
TUV ISO 9001:2015 Certificate
Korean KS Certificate
PED Certificate, EN10204 3.1 Certificate
Hot Products

ANSI, ASME, ASA B 16.5 FLANGES
JIS B 2220 FLANGES
KS B 1503 FLANGES
DIN FLANGES
UNI FLANGES
EN 1092-1/01 PN6-PN40 FLANGES
BS 4504 FLANGES
BS 10 T/D, T/E, T/F FLANGES
GOST 12820-80 FLANGES
GOST 12821-80 FLANGES
SABS / SANS 1123 FLANGES
AS 2129 FLANGES, AS 4087 FLANGES
ISO 9624 FLANGES, ISO7005-1 FLANGES
NFE 29203 FLANGES, NS FLANGES
KS B 1522/1541/1543 ELBOWS
BS4504 PN16 SLIP ON FLANGE RF
ANSI B16.5 150# SLIP ON FLANGE RF
ANSI B16.5 CLASS 150 WNRF FLANGE
DIN2632, 2633, 2634 2635 WNRF
EN1092-1/11 PN6-PN40 FLANGE
SABS / SANS 1123 1000/3 FLANGES
Hot Flanges Exporting